AN IDEA BECAME AN OBESSESION
THE STORY OF SUNNAMUSK
Sunnamusk started from humble beginnings. The vision was drawn up with a capital of just six hundred pounds. But that didn't stop the brothers from fighting tooth and nail to make their vision a success. Going from a small start-up on the market stalls of East London to a multi-million-pound organisation in less than 10 years is no easy feat.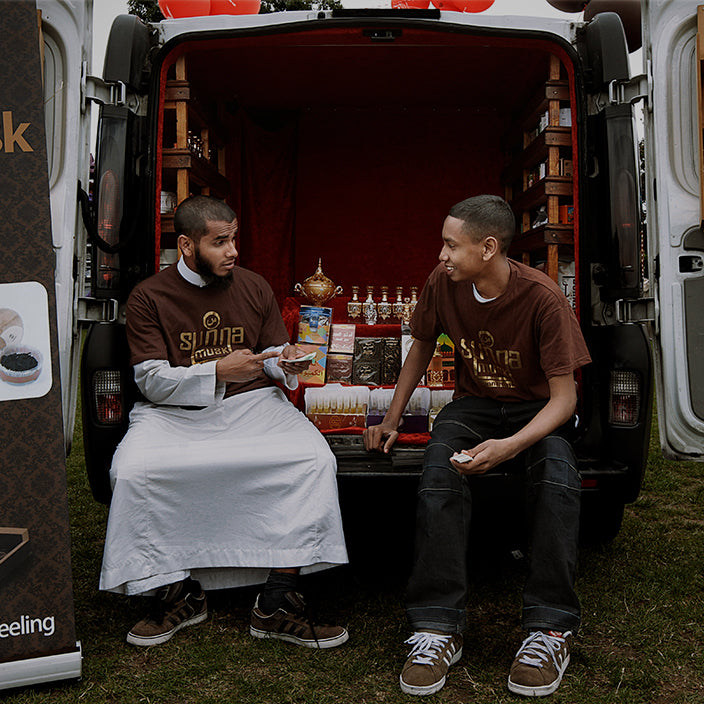 2009
SUNNAMUSK IS FOUNDED
In March of 2009, on the back of the 2008 credit crunch. The brothers gathered their savings of six hundred pounds and invested in their very first Sunnamusk collection of fragrances.
The brothers took shifts, in groups of two or three, to begin selling perfumes from car boots and makeshift stalls, at whatever opportunity that came their way.
Their first day of trading, on a cold and rainy day in Whitechapel, totalled twenty-eight pounds.
2010
TRADING ON THE STREETS OF LONDON
Up until 2010, Sunnamusk traded around the brother's existing commitments. However, later that year the brothers started trading in Whitechapel market, setting up temporary stalls every morning at 8am. After numerous occasions of being told they weren't allowed to set up shop on the pavements, Sunnamusk finally had a place to call home.
On their first day of trading in Whitechapel, they generated a total of two hundred pounds, which was beyond their expectations.
Due to a ferocious winter later that year, filled with heavy snow and rainfall, Sunnamusk relocated to Ilford Shopping Centre and continued trading there.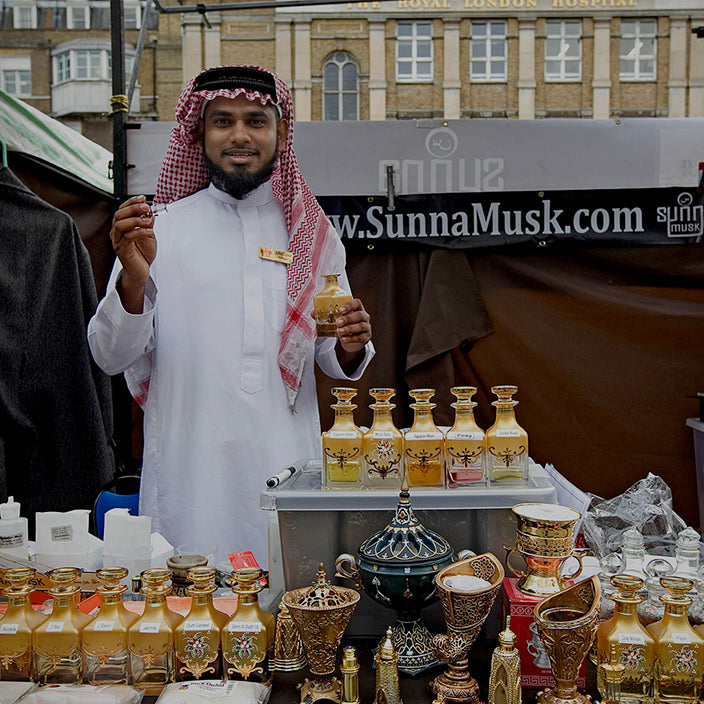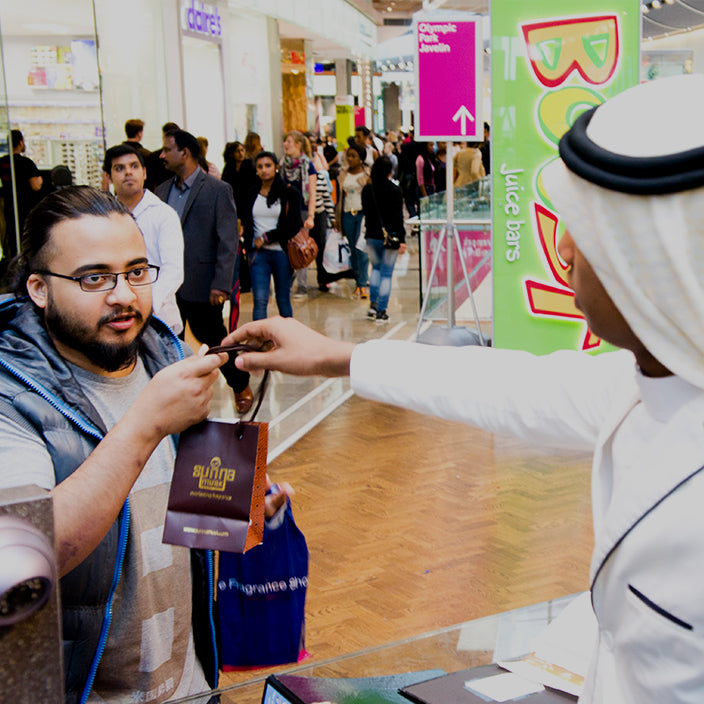 2011
SUNNAMUSK OPENS IN WESTFIELD
After months of continuous meetings and non-stop negotiations, Sunnamusk's biggest breakthrough came in 2011, when they landed tenancy in Westfield Stratford City. This memorable event was celebrated by the Kazi family.
Their first trade in Westfield Stratford City was on 11th November 2011 and it ushered the start of a new era for Sunnamusk.
Sunnamusk had now gone from a market stall to a consumer brand with a spot in one of the world's most popular shopping centres.
2013
ALDGATE FLAGSHIP STORE
Sunnamusk continued its growth and chose Aldgate as the perfect location for their brand-new flagship store. This store oozed elegance and bought a taste of the Middle East to the streets of East London. The store took Sunnamusk's brand and recognition to heights they could never have imagined.
By 2013, Sunnamusk had now established itself as one of the leading Arabian fragrance companies in London. But the Kazi brothers were not satisfied. Although, a lot of people would've been content with the amount of success they had already achieved. The Kazi brothers knew there was still so much more Sunnamusk could be.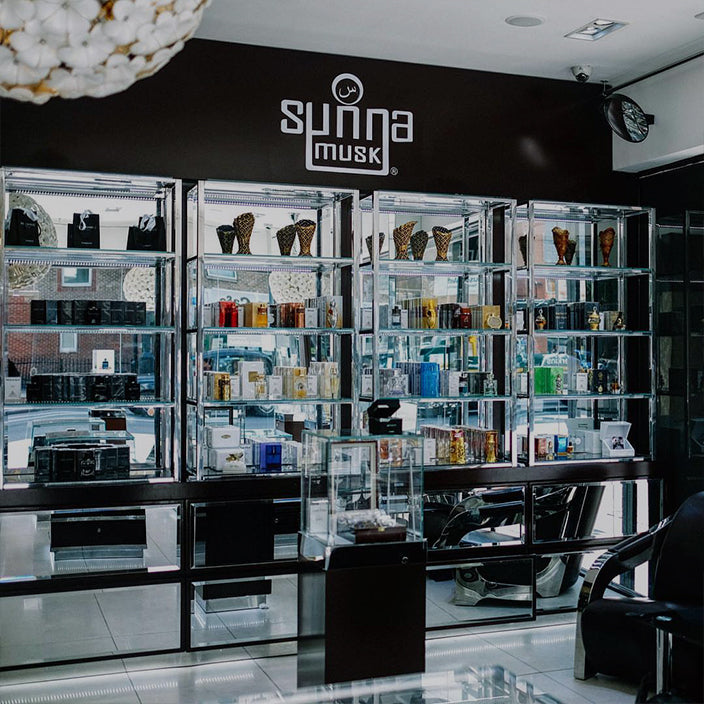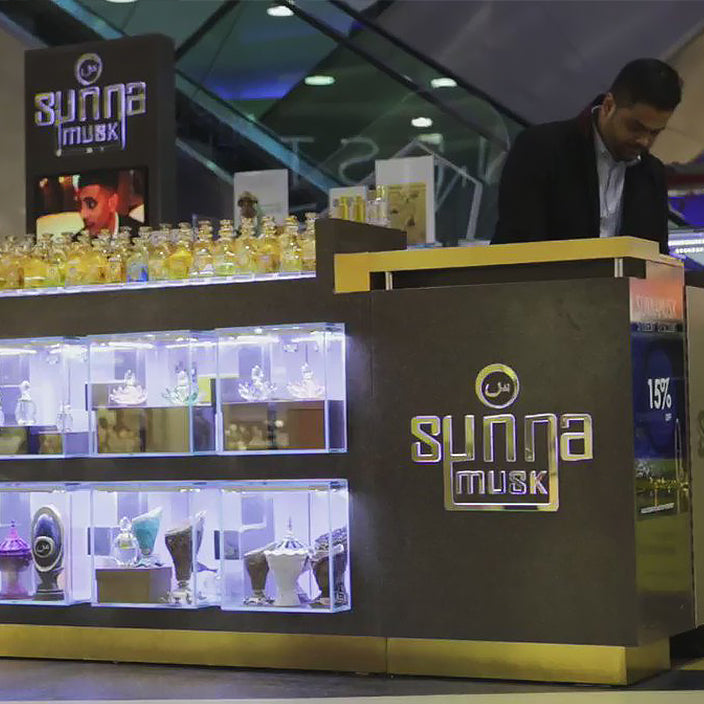 2015
EXPLORING PLANS TO GROW
The brothers were using pop up stalls to expand the brand image all whilst researching consumer behaviour to better understand how they can adapt to appeal to a wider audience. Pop-up stalls opened up in areas such as Hounslow, Lakeside, Ilford, Romford and more.
One thing was for sure, no matter where they went, Sunnamusk's fragrances proved to be extremely popular.
2016
A NEW VISION
It was at this point that the brothers really decided to push the brand. This included a brand facelift and a need to expand the team in order to bring in dedicated and skilled individuals that could share in the Sunnamusk vision.
This meant Sunnamusk went through arguably the most important transition in its history. A brand new Sunnamusk look and feel meant, they were attracting a new customer base throughout the UK and internationally.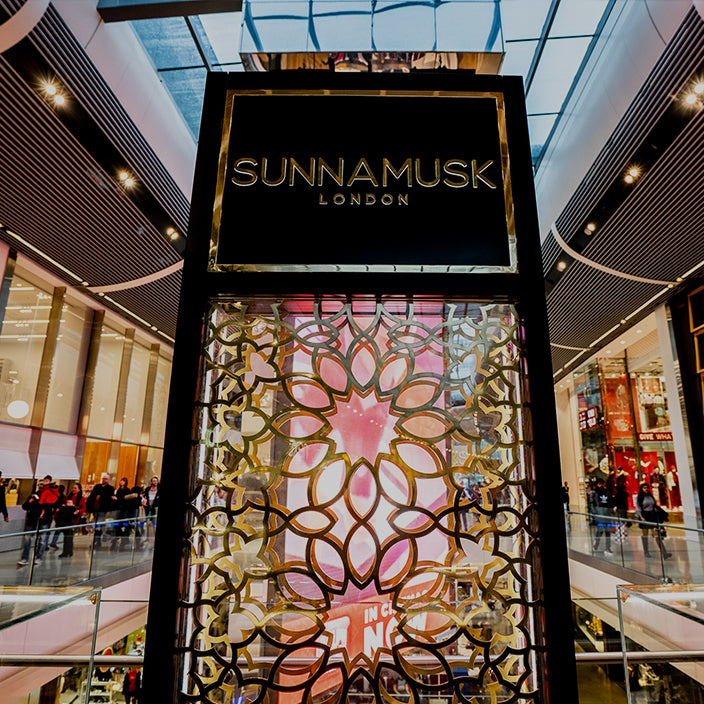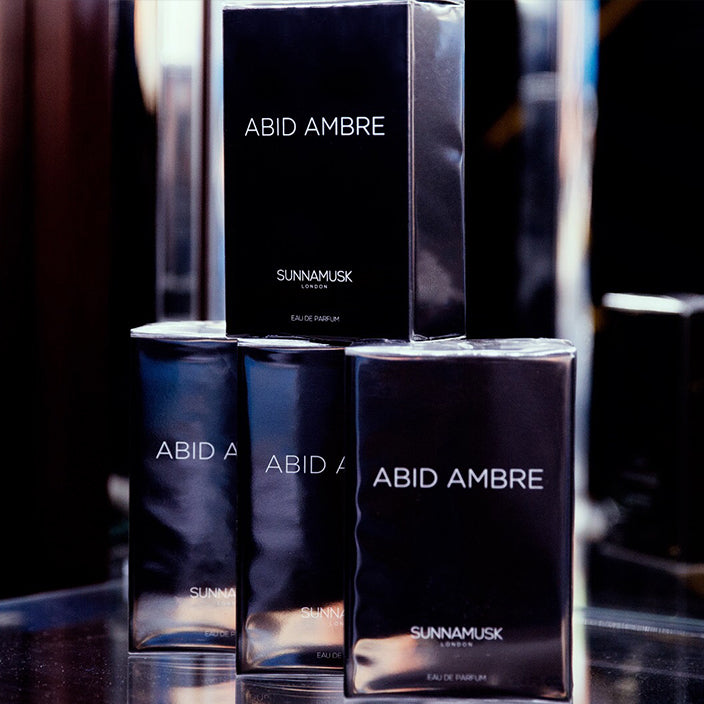 2017
THE RELEASE OF ABID AMBRE
In 2017, Sunnamusk released their first flagship fragrance and to date, their best selling product. Abid Ambre took the market by storm, a classy scent which epitomizes a refined gentleman.
An expertly crafted fragrance with top notes of Mandarin, Lemon & Grapefruit. Heart notes of Rose, Lily, & Orchid. Base notes of Vanilla, Amberwood, White Musk & Sandalwood.
It was no surprise to see why this became one of Sunnamusk's best-loved fragrances.
2018
SUNNAMUSK CHANGES HANDS
Kazi Shafiq Rahman steps down from his role as CEO, to pursue his lifelong dream in aviation.
This meant Kazi Abidur Rahman, the youngest Kazi brother aged 22, became one of the youngest CEOs to be responsible for a multi-million-pound organisation.
Sunnamusk was now a household name and didn't waste any time in adding to their portfolio of UK stores. Their goal was to take the number of UK stores from 4 to a whopping 8.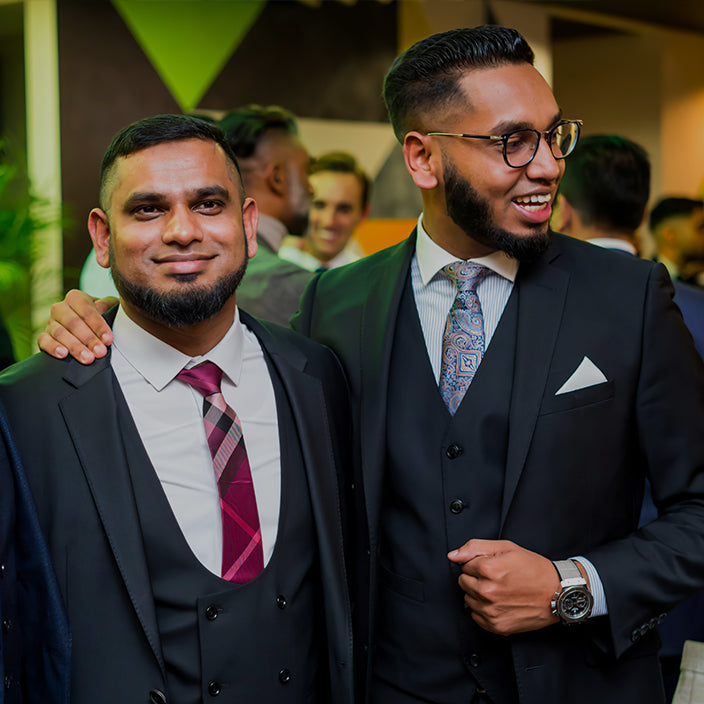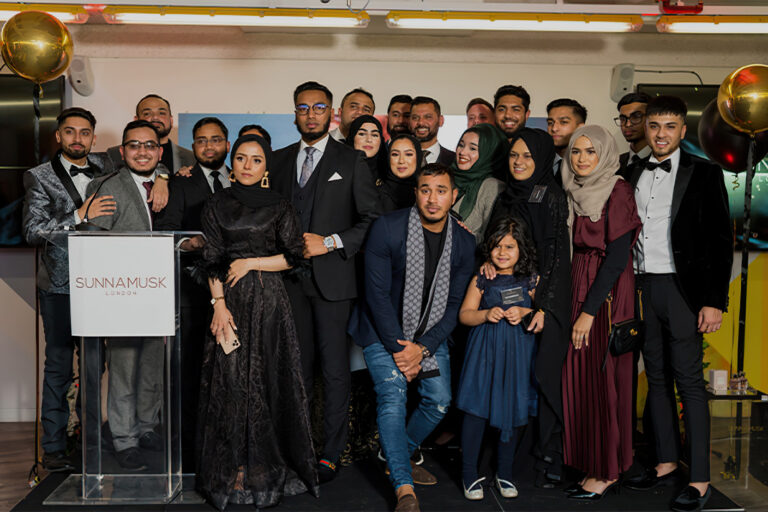 2019
SUNNAMUSK CELEBRATES 10 YEARS
Sunnamusk celebrated its 10th anniversary, hosting an event in Canary Wharf. The guest list included family, friends, partners, notable figures and press.
The occasion was marked with speeches from the brothers themselves thanking everyone who had been part of their 10-year journey, which saw Sunnamusk go from a tiny market stall to a multi-million-pound organisation.
2020
THE EXPANSION OF SUNNAMUSK
Sunnamusk continues to be a powerhouse in the fragrance industry with 8 stores in the UK and plans to expand internationally.
Sunnamusk also unveiled their new website in late 2020.